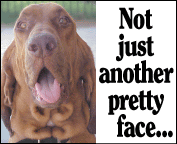 Put a Bloodhound Realtor
on the trail right now:

Outside of Arizona?
Dial 1-800-508-5430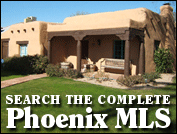 Hassle-free search of the complete Phoenix-area MLS system

Metro Phoenix/Scottsdale, AZ
Thursday, December 14, 2017

Success Stories...
"Fantastic! I see that once again you have missed no details. Carola and I thank you for the excellent job you did for us. Everyone I spoke to about how you facilitated this whole house-buying process was just as impressed with your thoroughness and dependability as I was. My conversations with relatives in Arizona who have recently bought homes made it really clear that this level of service and competence is outstanding; well beyond the norm. People are just amazed by the fact that we could initiate this from Germany, come to Arizona for a week one month later and go away with the house deal basically in the bag. You delivered exactly what we wanted." – Mike M.
"When thinking of buying or selling real estate in the Phoenix area - you won't go wrong with the assistance of Greg Swann and Cathleen Collins of Bloodhound Realty.
If you are selling, the Bloodhounds will develop and implement a marketing plan that is second to none - anywhere in the country. As a world-class marketer, Greg paints compelling pictures with his eloquent words that just might make you think twice about selling... and Cathleen will ensure your home has been properly staged to help you get top dollar in this competitive market.
Most importantly, you will receive the unvarnished truth - which you need more than ever in this market. Honesty is not only the best policy - it is their ONLY policy.
If you are buying, you'll get the very best representation by folks who are committed to YOUR success in the transaction. If integrity is important to you - then you'll be in good hands with Greg and Cathleen.
For buyers who are relocating to the Phoenix area, you will find the Bloodhounds to be not only knowledgeable of the best areas for you to consider - they'll deliver a comprehensive web presentation that will prepare you for any property you might consider.
I can not give you a higher recommendation for Greg and Cathleen." – Doug Q
"Cathleen and Greg are the best! We experienced and benefited from their friendliness, knowledge, dedication, expertise and determination when we bought our home and when we sold it. Though we moved out of state, we remain friends with the Bloodhound crew and recommend them--without reservation--to Phoenix area property buyers and sellers. You can't go wrong with Bloodhound Realty. They'll sniff out the perfect deal for you!" – Becky L

Click here for more testimonials
or submit your own success story.

Our Valued Partners
Mortgage lender:
Logan Hall
Sallie Mae Home Loans
Title insurer:
Fidelity National Title Insurance
Home warranty insurer:
Old Republic Home Warranty
Home inspector:
Premier Inspectors of America
Wood inspector:
Pest Control Solutions

Visit Our Real Estate Newsletter
News and views about the
booming Phoenix residential
real estate market

Homeowner's Library
Buyer Tips
How much home can
you afford to purchase?
Great Schools.net ~ Free online guide to K-12 schools
Arizona Association of Realtors Home Buyer's Advisory
100 Questions and Answers About Buying a New Home
Seller Tips
Home seller's Guide to Success
Tenant Tips
Financing
Regulatory Resources
Arizona Department of Environmental Quality
Arizona Department of Real Estate (ADRE)
Environmental Protection Agency ~ Mold Resources
Home Inspector Info: ASHI/NAHI
Structural Pest Control Commission (SPCC)
US Department of Housing and Urban Development (HUD)
Fair Housing
HUD's Fair Housing/Equal Opportunity Web Page
National Fair Housing Advocate
Homeowners' Associations