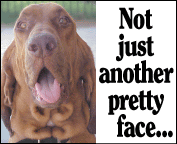 Put a Bloodhound Realtor
on the trail right now:

Outside of Arizona?
Dial 1-800-508-5430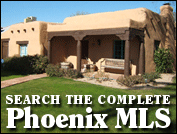 Hassle-free search of the complete Phoenix-area MLS system

Metro Phoenix/Scottsdale, AZ
Tuesday, August 22, 2017

Success Stories...
"I was just playing around on your site (not the blog) and I must say you've created one of the best real estate sites I've seen. Just like a good blog, your personality definitely shines through. Great site!" – Dustin Luther, Rain City Guide
"Lisa and I wanted to let you know what a great experience we had working with you from start to finish. We still find it hard to believe we landed the house we wanted and in the area we desired given this hot market. Your persistence paid off and it is sincerely appreciated. Also, thank you so much for the great communication and follow through with every question or issue we had no matter how large or small. You consistently went above and beyond to make it easier for us as out of state buyers and we felt engaged in the process but not overwhelmed. A very nice touch was creating the website of photos to allow us to see the house and share the photos with friends and family. We were also extremely impressed with the great and thorough team you assembled. From our loan officer to our inspector we felt like everything was completely taken care of. This allowed us to focus our attention on moving, not the details of the transaction. I believe things could not have been easier on our side and we will highly recommend Bloodhound Realty to our friends and family." – Robert and Lisa P.
"I am a real estate broker in Los Angeles, California. I have been following developments at Bloodhound Realty since 2006. All I can say is WOW! Greg Swann at Bloodhound has set the bar very high indeed ... in the way Bloodhound markets listed properties, in the way they service buyer clients, in their technical expertise, in their entire business model. It is amazing, absolutely amazing." – Cheryl J

Click here for more testimonials
or submit your own success story.

Our Valued Partners
Mortgage lender:
Logan Hall
Sallie Mae Home Loans
Title insurer:
Fidelity National Title Insurance
Home warranty insurer:
Old Republic Home Warranty
Home inspector:
Premier Inspectors of America
Wood inspector:
Pest Control Solutions

Visit Our Real Estate Newsletter
News and views about the
booming Phoenix residential
real estate market

Homeowner's Library
Buyer Tips
How much home can
you afford to purchase?
Great Schools.net ~ Free online guide to K-12 schools
Arizona Association of Realtors Home Buyer's Advisory
100 Questions and Answers About Buying a New Home
Seller Tips
Home seller's Guide to Success
Tenant Tips
Financing
Regulatory Resources
Arizona Department of Environmental Quality
Arizona Department of Real Estate (ADRE)
Environmental Protection Agency ~ Mold Resources
Home Inspector Info: ASHI/NAHI
Structural Pest Control Commission (SPCC)
US Department of Housing and Urban Development (HUD)
Fair Housing
HUD's Fair Housing/Equal Opportunity Web Page
National Fair Housing Advocate
Homeowners' Associations