Who we are and
what we're all about...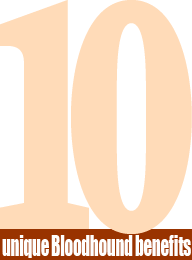 BloodhoundRealty.com is a team of Metropolitan Phoenix/
Scottsdale real estate professionals working together to rewrite the rules of real estate sales and service. We combine a high-tech sensibility with high-touch sensitivity – an excitement for the modern with a reverence for enduring values. The internet, surely, is the second best tool a Realtor can deploy – and we use the internet better than any of our competitors. But the best tool – always – is integrity, and without integrity there is nothing.
We believe in clear, detailed, complete communication – and who could doubt that after reading this web site! Where other Realtors hope to dazzle you with pretty pictures, we bend over backward to tell you the whole, unvarnished truth about real estate transactions – how they succeed and why they sometimes fail. It can be a comfort, at times, to 'leave it to the experts'. But real estate decisions can have very costly, life-long consequences. If you want to know every detail about your transaction, we're here to share it.
Our passion is to do the best we can do, to find the best house at the best price, to find the best-qualified buyer for your home, to negotiate the best terms, to help our clients reach the best decisions, making the best possible investment. We're not about doing deals, we're about forging relationships. We want for you, as our client, to be so delighted by our efforts that you cannot conceive of working with another Realtor.
Above all, we are about family – yours and ours. And while we might be a small business, there is nothing small – or small-time or small-minded – in the way we do business. We want to be your Realtor for life. We will do everything we can to make that happen.
Who is whom?

Greg Swann, ABR, CBR, CRS, E-Pro, GRI, is a Realtor and the Designated Broker for BloodhoundRealty.com. He is an Accredited Buyer's Representative, a Certified Buyer's Representative, a Certified Residential Specialist, an E-Pro Internet Certified Realtor and a Graduate of the Realtor Institute. He speaks frequently on real estate issues and writes a weekly column for West Valley sections of the Arizona Republic. Greg spent many years in hi-tech print and direct-mail advertising production and web-site development before becoming a Realtor. He is a mumbling Latinist, a stumbling applications programmer and a bumbling poet.

Cathleen Collins, GRI, in addition to being a first-rate Realtor, is our transaction coordinator. She keeps the schedules and verifies the details, making sure that transactions close when and as planned. She holds the Graduate of the Realtor Institute designation and is working toward the Certified Residential Specialist and Accredited Buyer's Representative designations. Cathleen's first career was in financial technology, putting Bloodhound at the technical cutting edge. She devotes most of her spare time and all of her spare money to rescuing unwanted animals – including our Spokesmodel, Odysseus.

Our son Cameron Swann is our programmer. Working primarily in the PHP programming language, his software produces many of the web pages a site like this requires. Cameron is a full-time student, an incipient Saint Mary's Knight.

Odysseus the Spokesmodel is the Bloodhound behind BloodhoudRealty.com. He is the model for our advertising, but also the model for our behavior: Devoted. Dedicated. Determined. He is one of thirteen adopted animals in our home, but he's the only one who pays his own way. Click here for a Glamour Shot of Odysseus the Spokesmodel.
Our valued partners
A real estate transaction is a complicated process drawing upon the talents of many dedicated professionals. While the choice of whom to employ is always yours, these are some people we have had great success working with in the past:
Mortgage lender:
Logan Hall
SallieMae Home Loans
602-445-0391
Escrow agent and title insurer:
Fidelity National Title Insurance
602-346-3500
Home warranty insurer:
Jennifer Brown
Old Republic Home Warranty
800-445-6999 x1264
Home inspector:
Mike Elsberry
Premier Inspectors of America
480-922-9002
Wood inspector:
Mark Deermer
Pest Control Solutions
480-963-2077
What does it all mean?
We're not a one-man band. Inside BloodhoundRealty.com, Greg Swann and Cathleen Collins bring a broad array of business and technical skills to the table, along with years of practical business experience. Our Partners add their talents – and we only work with the most talented professionals. Together we form a team committed to excellence. Devoted to perfect performance. Dedicated to your interests. Determined to succeed. Absolutely everything we do is devised to exceed the standards that have obtained, until now, in the real estate industry. With every atom of everything we produce, we seek to convey that we are not the same old thing. It is not just our goal, it is our plan and intention to be your Realtor for life...
Ready to get started right now?
You can make an appointment to meet in your home or our offices. Or you can request a Comparative Market Analysis of your home's value. You can fill out our detailed questionnaire to find your ideal new home. Or you can just pick up the phone and dial 602-740-7531. (Outside of Arizona? Dial 1-800-508-5430.) Either way, we're at your command, devoutly loyal, smart, frisky and eager to please...

Selling | Buying | Investing | Relocation | Current listings | About us
Find your ideal new home | Get a Market Analysis of your home
Search MLS listings | Make an appointment | Our offices
Tell your friends about us | Email Bloodhound | Home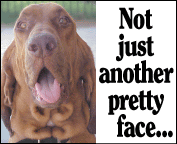 Put a Bloodhound Realtor
on the trail right now:

Outside of Arizona?
Dial 1-800-508-5430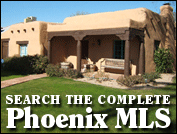 Hassle-free search of the complete Phoenix-area MLS system

Metro Phoenix/Scottsdale, AZ
Thursday, March 30, 2017

Success Stories...
"We would just like to tell you how much we appreciate all the hard work you have done on our behalf. You have helped to make this an easy transaction that was a good learning experience and efficient as well. We will definitely refer anyone we know who is looking to buy in Phoenix. Thank you again for all your help. We look forward to seeing you again the next time we are in town." – Brian and Kristen M.
"I like to report on good service I receive whenever I can. As I've blogged, we recently sold our home. One of the motivating factors was to use some of the profits to invest in other real estate.
Phoenix, AZ, happens to be the hottest appreciating market in the country, right now, and even though the run-up in prices in the last year precludes positive rental cash flow (unless you go in with lots of equity), appreciation should far outstrip the outlay I'll have over the next three years, which is my anticipated holding period.
So, I contacted my friend Greg Swann, of Bloodhound Realty. Told him I wanted three rentals, but not just any rentals. I wanted relatively new houses, stucco, tile roofs, in nice suburban neighborhoods. In short, I want houses that will attract the cream of the crop in tenants and command market rental rates, even though I may set the price slightly below just to rent them quick. We'll see.
I also told Greg that I did not want to travel to Phoenix -- not now, not ever! (not really) No, I just want to be able to do everything remotely.
I'm happy to report that he runs a fantastic turnkey operation for out-of-state investors. First, he referred me to a loan professional who specializes in investor loans. Then, Greg searched out 16 prospective properties and took lots of photos of each. He then recommended three, and, because I'm smart, I went with his recommendation 100%.
This one, this one, and this one.
Greg drafted the contracts on Friday, we signed them on Saturday morning, and by Sunday afternoon, we had firm deals on all three. Inspections are scheduled, loans are proceeding, property management will be established very soon.
All is proceeding very smoothly." – Richard N.
"Many many thanks for everything Bloodhound Realty has done on my behalf, with outstanding representation, attention to detail, and the whole bit. Were I to move back to Phoenix, I would use you folks again in a heartbeat.
At one point I was contemplating going with a cheaper alternative, but I doubt my home would've sold given the state it was in in August. I am glad in this market that I chose you. Best of luck building your business." – Damon C

Click here for more testimonials
or submit your own success story.

Our Valued Partners
Mortgage lender:
Logan Hall
Sallie Mae Home Loans
Title insurer:
Fidelity National Title Insurance
Home warranty insurer:
Old Republic Home Warranty
Home inspector:
Premier Inspectors of America
Wood inspector:
Pest Control Solutions

Visit Our Real Estate Newsletter
News and views about the
booming Phoenix residential
real estate market

Homeowner's Library
Buyer Tips
How much home can
you afford to purchase?
Great Schools.net ~ Free online guide to K-12 schools
Arizona Association of Realtors Home Buyer's Advisory
100 Questions and Answers About Buying a New Home
Seller Tips
Home seller's Guide to Success
Tenant Tips
Financing
Regulatory Resources
Arizona Department of Environmental Quality
Arizona Department of Real Estate (ADRE)
Environmental Protection Agency ~ Mold Resources
Home Inspector Info: ASHI/NAHI
Structural Pest Control Commission (SPCC)
US Department of Housing and Urban Development (HUD)
Fair Housing
HUD's Fair Housing/Equal Opportunity Web Page
National Fair Housing Advocate
Homeowners' Associations